The cover art for my forthcoming book
Here is the cover of my forthcoming book, The Presence of the Infinite. Quest Books designed the cover, but I chose the image of calla lily. I like this flower image because it resembles a key graphic from the book: The taijitu of Lai Zhide, "diagram of the supreme ultimate," which shows how two opposing poles can enact a third central element through their integration.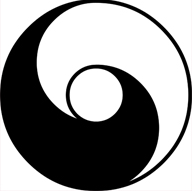 I also like the calla lily because it continues the theme of a spiral flower, like the images used on the covers of my two previous books.
The Presence of the Infinite is due out in November.