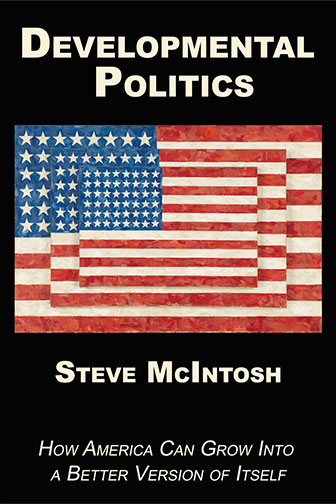 Developmental Politics:

How America Can Grow Into a Better Version of Itself
To be published by Paragon House, Spring, 2020
Overview of the Book
Developmental Politics presents an inspiring yet realistic way to overcome the hyperpolarization that plagues American democracy. The problem of America's bitterly divided politics is being caused primarily by the rapid cultural evolution that has occurred over the last fifty years. Overcoming this problem accordingly requires further cultural evolution, which involves expanding the scope of what Americans can value.
The book is divided into two parts: Part I describes how American society has been disrupted, for both good and bad, by the emergence of the progressive postmodern worldview. It then offers a method of "values integration" that can help quell our cultural conflict. Then Part II presents a new developmental political philosophy that can help restore America's collective higher purpose. This new philosophy emphasizes the deep political need for a sense of transcendence. It also describes how the practice of virtues can lead to our political and cultural renewal. The book concludes by reframing social progress in terms that can appeal to all three major American worldviews.
Table of Contents
PART I: TOWARD A POLITICS OF CULTURE
Chapter 1. America's Existential Dilemma

"Hyperpolarization is a cultural problem that requires a cultural solution"

Chapter 2. The Momentous Emergence of the Modernist Worldview

"The rise of modernity has created more cultural evolution than any worldview before or since"

Chapter 3. Tracing the Development of the Progressive Postmodern Worldview

"Progressive postmodern culture is both a blessing and a curse for Western civilization"

Chapter 4. Reaching Political Agreement Through Values Integration

"Quelling our cultural conflict entails expanding the scope of what Americans can value"
PART II: TOWARD A NEW POLITICAL PHILOSOPHY OF PURPOSE AND PROGRESS
Chapter 5. Evolving Our Understanding of the Good

"We need an improved definition of improvement itself"

Chapter 6. Harnessing the Energy of Value

"Revivifying our collective vision of transcendence can lead to our political renewal"

Chapter 7. Cultivating Cultural Evolution Through a New American Dream

"Our transcendent purpose is to evolve culture and consciousness"

Chapter 8. A Renaissance of Virtue

"The practice of virtues can become a politically unifying force in American culture"

Chapter 9. A Transcendent Vision of Progress

"Developmental politics seeks to rehabilitate America's collective belief in progress"

Appendix A: On the Ontological Status of Worldviews

Appendix B: An Exercise for Practicing Virtues: Creating a Personal Portrait of the Good

Endnotes