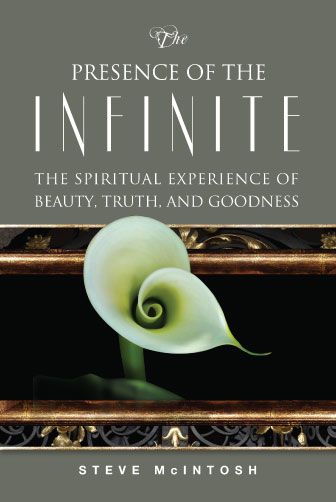 The Presence of the Infinite
The Spiritual Experience of
Beauty, Truth, & Goodness
Published by Quest Books
October 1, 2015
ISBN-13: 978-0835609418
280 pages, Paperback
Index, Bibliography, Graphics, 6×9″
Overview of the Book
The Presence of the Infinite sheds a new light on the subject of spiritual experience. Using the emerging insights of evolutionary spirituality, author Steve McIntosh enlarges readers' capacity to have spiritual experience more abundantly and use it more effectively to improve their lives and the world around them.
Evolutionary spirituality is arising from the growing realization that the scientific and historical story of our origins actually presents a profound spiritual teaching about the purpose of the universe and our place within it. Evolutionary spirituality, however, is not a new religion or belief system. Rather, it represents a widely agreeable public form of spirituality that can provide a greater sense of solidarity and cohesion for those living in the developed world, while simultaneously retaining pluralism and making abundant room for a diversity of convictions about what is ultimately real. In short, evolutionary spirituality endeavors to "transcend and include" that which is currently on offer in the spiritual marketplace of ideas through a fresh approach to spiritual teaching and practice.
The Presence of the Infinite starts by providing a timely cultural analysis and critique of the various forms of spirituality that are vying for influence in contemporary American society. Building on this context, McIntosh shows how evolutionary spirituality overcomes the limitations of religious, secular, and New Age spirituality by better harmonizing science and spirit. Evolutionary spirituality's transcendent potential is found in its deepening realization of the essentially spiritual qualities of beauty, truth, and goodness. McIntosh reveals how these most intrinsic values function as a kind of "spiritual technology," which can be used for both personal spiritual growth, and as a powerful methodology for solving difficult social problems by fostering the evolution of consciousness.
McIntosh then uses evolutionary spirituality's enlarged understanding of what spiritual experience is and how it works to consider the question of ultimate reality. This leads to an examination of conflicting ideas that regard spirit as either formless and nondual, or as loving and creative. By working to harmonize and integrate these alternative conceptions of ultimate reality, McIntosh shows how evolutionary spirituality can achieve a synthesis of nondual and theistic teachings of truth that can produce a spiritual renaissance in America and beyond.
Notwithstanding its intellectual sophistication, the book's thematic focus on America's need for more effective forms of spiritual leadership keeps the discussion practical and culturally relevant, while also being profound and inspirational. The Presence of the Infinite is destined to become a definitive text in the exciting new field of evolutionary spirituality.