The Latest Email Newsletter from ICE
This summer I'm working on my next book just about full time, which I describe in the interview by Andrew Cohen, under the video section of this site.
Besides the book my other focus is moving ahead with the start-up think tank I'm co-founding called the Institute for Cultural Evolution.  Below is the latest newsletter that went out to our growing email list.
Dear Friends of The Institute for Cultural Evolution,
Although we are net yet fully operational, we continue to make progress on the development of our integral political think tank, the Institute for Cultural Evolution ("ICE").
New Website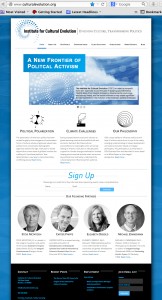 This email announces the launch of our new website, which replaces our old "placeholder webpage" at: www.culturalevolution.org. This new website includes a blog by ICE's Founding Partners, video clips of a recent public presentation, and expanded descriptions of our mission and political campaign plans. The new website also includes a preliminary description of our "Client Solutions services," which are an emerging part of our business model that supplements the work of our "Campaign Issues."
How You Can Help
Many of you have expressed an interest in helping with our work at ICE, and now that our new website is up we could really use your assistance. Please go to the website and leave a short comment in the "Reply" field under either the "Climate Plan" or the "Polarization Plan." These subpages can be found in the "Campaign Issues" section of the website: www.culturalevolution.org/campaign-issues/climate-change. This simple act of leaving a comment will help us establish the new website and will count as a small but meaningful form of integral political activism. We would also be grateful if you would comment on one or more of our blog posts.
Other News
Although this new website represents progress, we continue to await approval of our 501c3 nonprofit status by the IRS. After this is secured we can receive the pledged donations that will allow us to really get to work on ICE's goals.
Also newsworthy is a change in our board of directors. Beginning in July spiritual teacher and journalist Andrew Cohen is taking a sabbatical from his professional life and will be stepping down from his role as a member of ICE's board. Andrew has been an important supporter of ICE from the beginning and we are very grateful for his contribution to the birth of our organization. We trust Andrew can become involved with us again after his sabbatical is complete. Replacing Andrew on ICE's board will be integral thought leader Jeff Salzman. Please see Jeff's new profile page on our website under "Our People."
We thank you for your ongoing interest and support of ICE.
Sincerely,
Founding Partners
Institute for Cultural Evolution