Daily Evolver podcast about my new virtues exercise: Your Portrait of the Good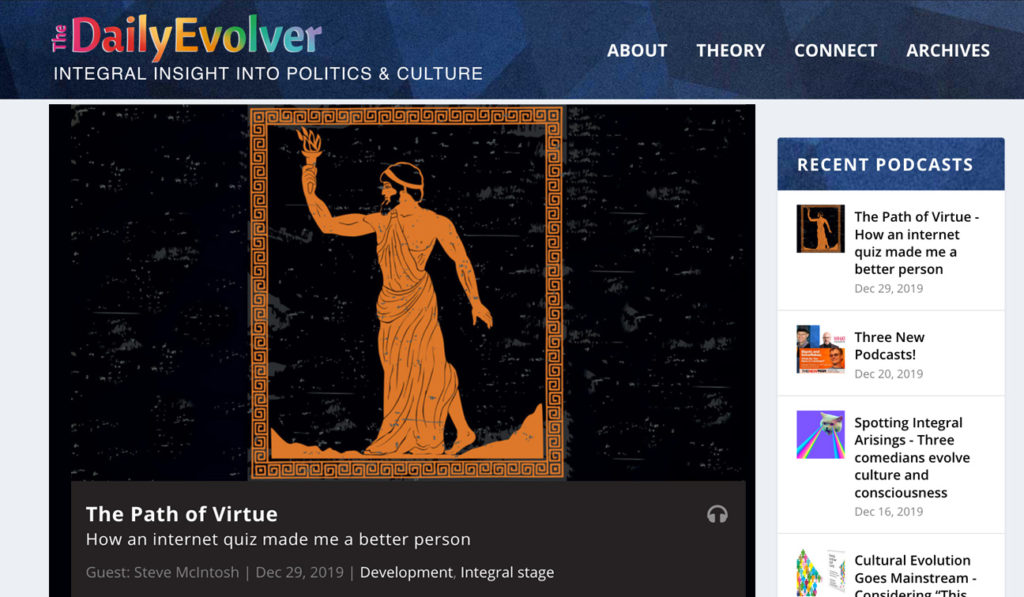 My character development exercise, on the the Institute for Cultural Evolution's website, is the subject of Jeff Salzman's latest Daily Evolver podcast. Here is Jeff's description of the podcast:
Integral philosopher Steve McIntosh helps us usher in the new year (and decade) with a fresh look at an ancient formula for living a happy, productive and meaningful life. In this episode he explains "the virtues", a philosophical concept with living roots reaching back to antiquity, including Plato and Confucius, as well as modern validity in the findings of positive psychology and social science.
Virtues practice is a powerful means of personal growth, and Steve gets us started by introducing The Character Exercise, an eight-minute internet quiz that helps us clarify our highest ideals and create a personalized "portrait of the good". You are invited to do the quiz midway through the podcast … your answers generate a printable chart that serves as a practice tool for cultivating happiness and fulfillment. I took the quiz a few months ago and I can honestly say that it has significantly changed my life for the better. I am surprised at its power and trust it will be helpful to you too (let me know!). (let me know!).
Later in the podcast, Steve imagines the virtues as illuminating the path through our hyper-polarized political culture, a prospect he explores more fully in his upcoming book, Developmental Politics: How America Can Grow Into a Better Version of Itself.