Institute for Cultural Evolution featured at Esalen Conclave for Conscious Capitalism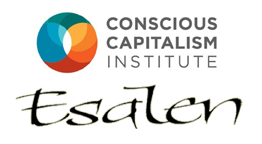 Whole Foods Co-Founder and CEO John Mackey, together with business academic Raj Sisodia, recently published their book Conscious Capitalism, which is receiving a lot of attention in the marketplace of ideas. The book highlights integral theory in several places and even quotes from my 2007 book Integral Consciousness.
In connection with their mission to reestablish the credibility of free markets as essential to human flourishing and freedom, John and Raj have founded the Conscious Capitalism Institute. Their institute is putting on a variety of events, including an invitational conclave at Esalen, the storied retreat center on California's Big Sur coast. 2013 will be the third year of Esalen's Conscious Capitalism Conclave, which on March 24-27 will bring together high profile CEOs and business thought leaders to explore "more conscious ways of doing business." And this year, in addition to a group of CEOs including Jay Ogilvy of Global Business Network, Chip Conley of Joie de Vivre, Scott Kerslake of Prana, and many others, they have also invited spiritual teacher Byron Katie and me. While I don't hold myself out as a "business thought leader," I know that integral philosophy has a lot to offer business organizations so I accepted the invitation gladly.
But it gets better. Esalen's own institute, which has been hosting thought leader conclaves at their retreat center for over ten years, is in charge of the program for this Conscious Capitalism Conclave. And Esalen Institute's chair, Sam Yau, was excited to see that integral philosophy would be included in the program. So Sam began to investigate the application of integral philosophy through the work of our new think tank, The Institute for Cultural Evolution. Then after reading through the think tank's campaigns for climate change and political polarization Sam decided that these campaigns should be the focus for a full morning of the three day Conclave. He also requested that we bring in another of the think tank's principals to participate in the presentation. So now both Carter Phipps and I will be presenting at the Esalen Conclave and the work of the think tank will be a significant focus of the gathering.
For more on the work of the Conscious Capitalism Institute, see: consciouscapitalism.org. And for more on the Esalen Institute, see: www.esalen.org