Announcing the Launch of The Institute for Cultural Evolution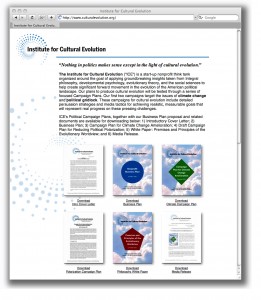 Throughout 2012 I have been working closely with my friends and colleagues Carter Phipps, Elizabeth DeBold, Michael E. Zimmerman, Gerard Senehi, and Andrew Cohen to create an integral political "think tank." This nonprofit organization, called The Institute for Cultural Evolution ("ICE"), seeks to apply the insights of integral philosophy to solve difficult political problems such as building political will for action on climate change, and overcoming political gridlock. Our tag line is adapted from a famous quote from evolutionary biologist Theodosius Dobzhansky: "Nothing in politics makes sense except in the light of cultural evolution."
The launch of the think tank corresponds with the on-line publication of two significant documents that demonstrate ICE's novel political approach: The Campaign Plan for Climate Change Amelioration, and The Campaign Plan for Reducing Political Polarization. Both of these Campaign Plans show how the insights of integral philosophy can be used to solve seemingly intractable problems. They present unexpected and surprising solutions, and offer a path forward to address these perplexing problems.
At this point in the start-up phase of the think tank we are circulating the documents among our networks and working to build strategic alliances with like-minded organization. However, before we can pull the trigger on either of our Campaign Plans we need to secure philanthropic funding. Fundraising will thus be the primary focus of our activities for the first months of 2013.
At the moment, our website pictured above, www.culturalevolution.org, is merely a placeholder, but pdfs of ICE's campaign plans can be downloaded from there. Also available for download on www.culturalevolution.org is ICE's nonprofit Business Plan, a white paper on the Premises and Principles of the Evolutionary Worldview, and our first Media Release.
Once we have secured funding, we will build out the website and begin the political campaigns described in our documents. I thus invite you to visit ICE's website and sign-up to our email list for updates and progress reports.