New Website Design for SteveMcIntosh.com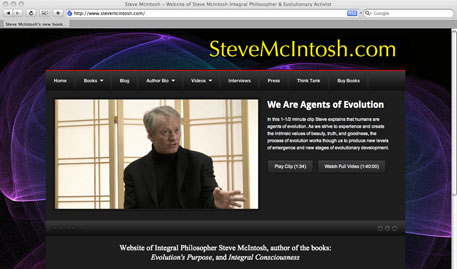 I originally created SteveMcIntosh.com back in 2007 in connection with the launch of my first book, Integral Consciousness. Although the site was updated to include all the new information associated with my 2012 book, Evolution's Purpose, the site looked dated.
Recognizing the need for an update, my wife Tehya, who has been helping with my Facebook and Twitter author pages, encouraged me to redo SteveMcIntosh.com using the "Web 2.0" style. So now, after some weeks of work with my capable webmaster Andy Schwarz, we are proud to announce the launch of this all-new website.
The new site is organized around high-definition videos that were recorded during my book tour for Evolution's Purpose in 2012. It uses a WordPress theme and works well in a variety of formats. This new theme also allows us to update much of the website directly without needing Andy's help.
I thus invite you to explore the new website and watch the videos. And please subscribe to this blog, or otherwise come back to the site in the weeks ahead to see it evolve. Also, please note my old blog, with posts from April 2007 through October 2012, can be found here: blog.stevemcintosh.com.