New Videos from My Book Tour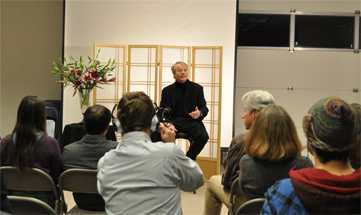 My "book tour" for Evolution's Purpose is now complete. I gave presentations in Paris, Frankfurt, New York City, Chicago, San Francisco, Los Angeles, and in Denver and Boulder. Although I will be doing more public presentations in 2013, Evolution's Purpose has now been officially launched and the book is being well received.
One of the fruits of the tour was the recording of two high-definition professional videos, which are now available to watch for free here on my website and also on YouTube. The primary video is an hour and forty minute presentation on the book, which I gave on November 16th at the Caritas Center in Boulder. This video records my basic "book talk" and includes a lively discussion with the audience. The second video, recorded in July at the beginning of the tour, is an hour interview with my close friend and fellow evolutionary Jeff Salzman.
I hope you will have a chance to watch one or both of these new videos. And if you feel so moved, please send me an email with any questions or to let me know what you think.