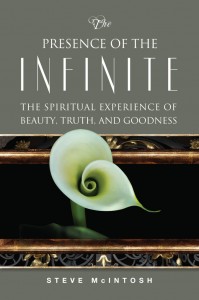 The release of my new book, The Presence of the Infinite, is only days away. In connection with the book's publication I'll be traveling on a short book tour to San Francisco, New York City, Seattle, Dallas, Austin, and in several locations in Colorado, as shown in the initial schedule below, and as periodically updated here.
I'll be posting abother blog when the book becomes available for purchase on Amazon. But since my main San Francisco Book Talk at Bay Area Integral is just 2 weeks away (being held in Berkeley on Wednesday, 9/30), I wanted to share my preliminary schedule now. I hope to see you at one of these live talks.
Thanks for your ongoing interest in my work.
Book Presentation Tour Dates for The Presence of the Infinite
San Francisco Bay Area: September 30 – October 2
9/30/15 Bay Area Integral, Main Book Presentation, Rudramandir Center, Berkeley, CA  http://www.bayareaintegral.com/steve-mcintosh-sept30
9/30/15 San Francisco State University, speaking to a class at 1PM
10/1/15 John F. Kennedy University, "Consciousness Dialogues series" 7PM at JFK University, Pleasant Hill, CA
10/2/15 San Rafael, Marin County, Book Talk at the "Big House," 7:30PM, 400 Upper Rd. San Rafael 94903, please RSVP to Byron@originpress.com
Boulder/Denver Colorado October 15 – October 22
10/15/15 The Denver Book Bar, Book Talk 7PM, 4280 Tennyson Street, Denver, CO 80212, (720) 443-2227
10/20/15 The Boulder Book Store, Book Talk at 7:30 PM, Pearl Street Mall, 1107 Pearl St, Boulder, CO 80302 (303) 447-2074
10/22/15 Boulder Integral Center, Main Book Presentation at 7:30 PM, 2805 Broadway, Boulder, CO 80304
(303) 834-7784, https://www.facebook.com/events/1682655868633944/
Dallas Texas, November 1 – 2
11/1/15 Unity Church Dallas, Morning short talks, 9AM and 10:30AM Services: http://unitydallas.org
11/1/15 SMU Perkins School of Theology Evening, Main Book Presentation, 7PM, 5915 Bishop Blvd, Dallas, TX 75208
11/2/15 Integral Meet Up Group, Presentation on Political Polarization and the work of ICE, 7PM: http://www.meetup.com/dallasintegral/events/224771909/
11/15 Austin Texas Talk, Book People Bookstore (details to come)
New York City, November 9

11/9/15 Integral Meet Up Group, Book Talk, 7PM, google: NYC Ken Wilber Meetup group
Seattle Washington, January 22 and 23, 2016
1/22/16 Elliott Bay Bookstore, Book talk, 7PM Friday night, 1521 Tenth Avenue
Seattle, WA 98122
1/23/16 Scottish Rite Freemasons, Main Book Presentation, Saturday morning 10AM, 1207 N 152nd St., Shoreline, WA 98133